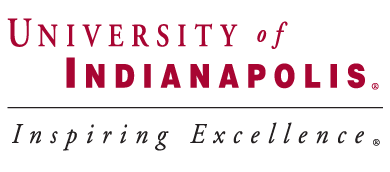 University of Indianapolis
Founded in 1902, the University of Indianapolis (UIndy) is a fully accredited, mid-sized university that has been welcoming international students to its campus since 1919. Currently 450 international students from 65 nations make up approximately eight percent of our total student population. The University of Indianapolis is regionally ranked as a top tier institution among universities of its type.
City of Indianapolis
Indianapolis, a state capital with a population of approximately one million, is located in the Midwestern United States within driving distance of several other major cities including Chicago and St. Louis. The city presents a full range of professional opportunities to students at companies such as Roche Diagnostics, Rolls Royce, Marriot Hotels, and the National Collegiate Athletic Association. At the same time, students can enjoy a variety of recreational activities in the safe, affordable, hospitable and convenient environment of the city.
---
We invite you to join us!
Click here to select your academic preferences.
---
Academic Programs: The University of Indianapolis offers more than 80 Bachelor degree areas of study including:
Business, our most popular subject for international students, which features 12 majors, a 5-year Bachelor of Science (BS) to MBA, and experienced faculty who leverage industry connections to benefit students
Science and technology programs including Computer Science and a 5-year dual degree program in Engineering offered in cooperation with Purdue University
Sports-related majors such as exercise science, physical education, sports information, sports management and sports marketing -- all of which allow students to take advantage of local internship and employment opportunities with professional athletic teams and amateur sports organizations
Health sciences, our most well-known programs, which are offered through Doctoral level in several areas
Arts and humanities including Music, Art, International Relations and Communication
---
Learn more.
Let us know which programs interest you,
and we will respond to you promptly.
---
Student Professional Success: With a faculty-to-student ratio of 12-to-1 and an average class size of 18, the University of Indianapolis provides the individual attention students need to help them meet their personal and career goals:
94 percent of graduates report that connections with UIndy faculty proved valuable in their careers
86 percent of students experience some type of internship training
International students have recently been placed in internships in companies such as Google, China Daily Beijing, Citibank, Pittsburgh Supercomputing Center, and the Indiana Finance Authority
85 percent of alumni are employed or in graduate school within six months of graduation
International students have recently secured positions with prominent companies such as Microsoft, Oracle, JPMorgan Chase, Sunstar Engineering, and AT&T
Campus employment for international students is available in office environments, Information Technology (IT) and other areas
---
Take the next step.
Provide us with more info to continue with your inquiry.
---
Scholarships
At the University of Indianapolis, costs are the same for both international and U.S. students. Most international students receive a scholarship. Amounts range up to $7,500 per year for transfer students and up to $13,000 per year for students who have not previously attended another college or university. Scholarship amounts are based on the same academic documents that students submit to be considered for admission.
---
Ready to enroll?
Please proceed.
---
International Student Services
International students at the University of Indianapolis receive specialized admission processing, orientation and visa assistance. Campus housing and free airport pick-up are available. English-as-a-Second-Language instruction is offered at Internexus, an affiliated program located just outside of our campus.
---
We look forward to welcoming you to the University of Indianapolis. To learn more, review all of our programs and select the ones that interest you. Then complete the inquiry form, and we will respond to you directly. You may also visit uindy.edu.
---